Storage for Collaborative Workflows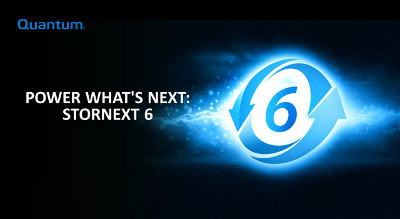 Newly engineered from the ground up, StorNext® combines file management technology with easy-to-deploy appliances to support complex and demanding data management workflows. It includes Xcellis workflow storage, extended online storage, and tape archives—all powered by StorNext 6 data management.
Quantum StorNext delivers high performance, scalability and flexibility to scale-out shared storage file system, tiered storage, and archive; giving users immediate, high- speed shared access to their files.
Highlights
Rapid data ingest and access
Enables transparent shared access
Built for scale
Fits seamlessly into existing workflows and networking infrastructure
Intelligent tiered storage
Powered by StorNext 6 data management
Use Cases
Data management in today's world is challenging. Advances in camera, satellite, sensor, and seismic technologies are creating a massive influx of data that needs to be captured, processed, shared, and preserved. Stornext is an ideal solution for the following industries:
Media and Entertainment
Government
Video Surveillance
Service Providers
Finance
Science and Engineering
Life Sciences
Education
Transform the economics of your storage and data center environment.
Keeper offers a robust suite of high- performance, scale-out storage solutions that integrate seamlessly within the StorNext framework. The addition of Keeper to StorNext allows customers to balance capacity, costs, and growth that comes with managing large files in rapidly changing environments.
---
Integration Facts
You've invested countless resources into your current data management solutions. There's a way to keep those systems, and make the upgrade necessary for inevitable changes.
keeperSAFE® assimilates into your existing environment by directly supporting your existing protocols. Download a use case sheet to learn how.